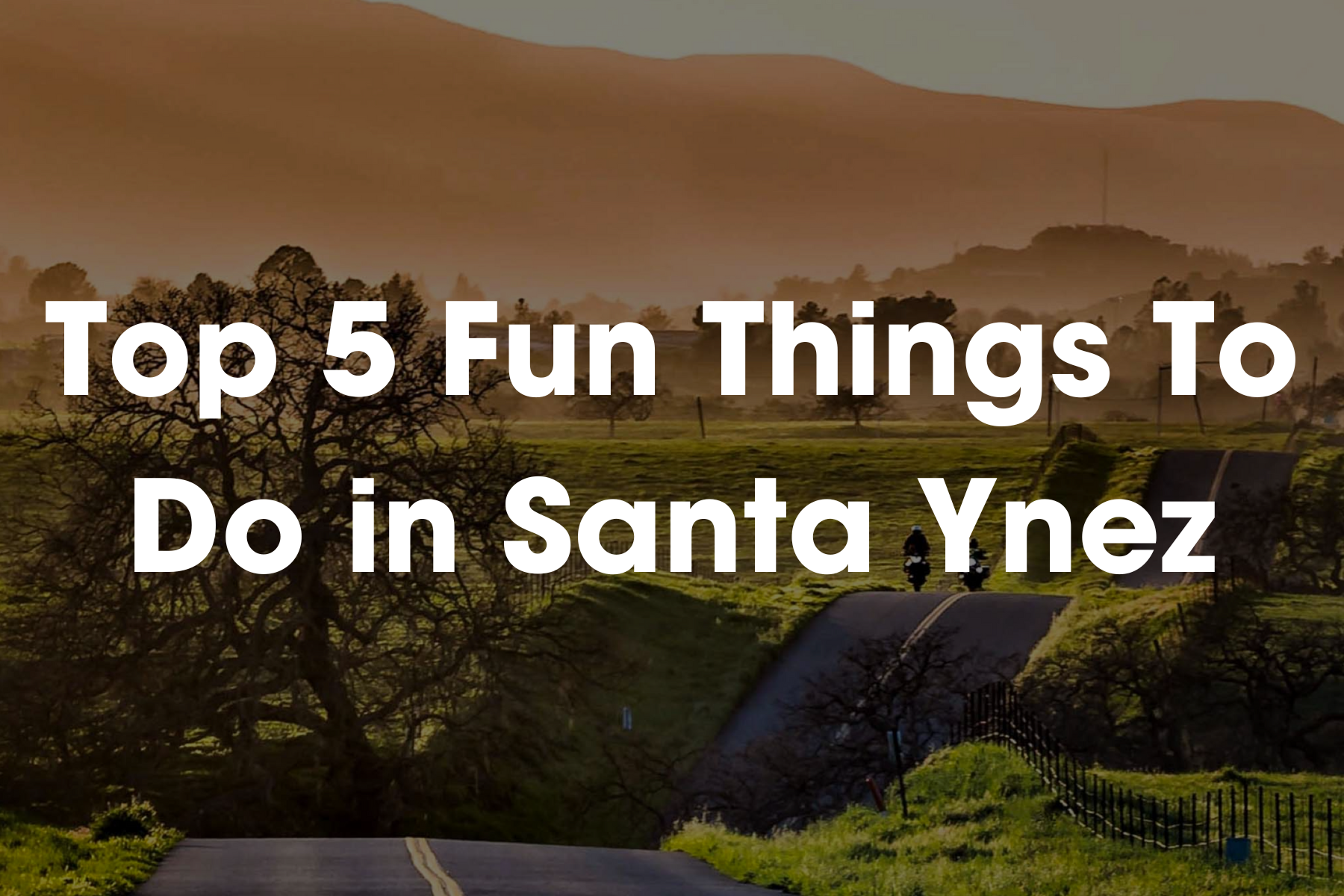 The Santa Ynez Valley boasts the highest concentration of wineries in Santa Barbara County, making it the most popular destination for our wine tours. This wine country was for long an overlooked area as California wine tourists ventured to the larger Temecula, Sonoma, and Napa Valleys. Santa Ynez is now perhaps the most visited of all wine regions in Southern California. It is home to nearly 70 miles of vineyards and features over 120 wineries.
Why Visit Santa Ynez?
Santa Ynez Valley is a charming and picturesque region in Santa Barbara County, known for its stunning landscapes, wine country, outdoor activities, and rich cultural experiences.  It is a paradise for wine enthusiasts who can explore and taste a wide variety of local wines, including Pinot Noir, Chardonnay, Syrah, and more. The area is known for its breathtaking vineyards, rolling hills, and oak-studded landscapes. The region is also dotted with numerous quaint small towns that are a frequent delight for our limo clients to explore and enjoy.
What Wineries To Visit
Among the wineries visited on our wine tours, some of the most popular ones include:
Sunstone: Derived from its sun-kissed stone embankment that gracefully gazes upon the Santa Ynez River Valley, this winery bears a fitting name. Completed in 1993, it stands as one of the valley's most exquisite and picturesque wineries, boasting an alluring Provencal architectural style. The splendorous outdoor courtyard provides a breathtaking vista of the vineyards.

Bridlewood Estate: Nestled amidst picturesque landscapes, this grand and majestic estate boasts a remarkable red-tile roof, making it a truly extraordinary and captivating winery. Bridlewood, in conjunction with Sunstone, stands out as two of the most sought-after destinations for Santa Barbara wine tours. With a fascinating history as a former breeding and training facility for horses, the estate has since transformed into a stunning 7-acre vineyard. An impressive annual production of up to 20,000 cases of wine showcases the winery's commitment to excellence.

Brander Vineyard: Nestled in the enchanting town of Los Olivos, this vineyard's rich history dates back to 1974, making it one of the valley's oldest. Set within a pink European-style chateau, the wine-tasting room exudes a unique and captivating ambiance.

Gainey Vineyards: Built in 1984, this charming Spanish-style tasting room sits at the end of a picturesque long drive, lined with pepper trees. Apart from housing a delightful restaurant, it also provides a myriad of experiences, including picnicking, cooking classes, harvest parties, and more.
SEE ALSO: Top 5 Wineries in Santa Barbara!
Fun Activities
Visit Denmark: Solvang, a contemporary take on an old Danish village, offers a one-of-a-kind experience that is well worth a visit. Its picturesque streets exude the charm of a suburban Disneyland, boasting unique and eye-catching architecture. Additionally, Solvang has gained fame for its delectable Danish pastries, making it a must-visit destination for food enthusiasts and culture seekers alike.

Feed the Ostriches: OstrichLand USA serves as an exciting zoo, home to more than a hundred emus and ostriches. Families with children find it a favored destination, especially with our limo services making it easily accessible and enjoyable. Founded in the 1990s by a South African couple, the thoughtful choice of location was driven by the striking resemblance to African and Australian landscapes.

Enjoy a Balloon Tour: With a rich history spanning over two decades, Sky's the Limit Ballooning presents an extraordinary opportunity for balloon tours over the enchanting Santa Ynez wine country.  Witness the vineyards, rolling hills, and picturesque countryside from a whole new and breathtaking perspective.

Go Horseback Riding: Horseback riding tours are among the most sought-after activities in Santa Ynez, and Circle Bar B. Stables stands out for offering a diverse range of riding experiences tailored to your preferences. From morning and sunset rides to half-day lunch tours, there's an option for everyone. Exploring Santa Ynez on horseback brings an authentic and traditional dimension to your journey.