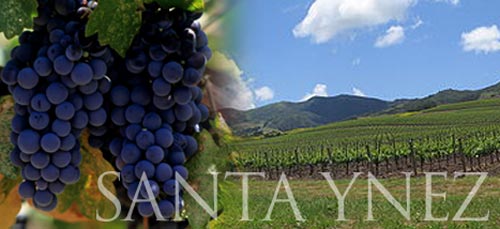 Nestled in the heart of Santa Barbara County's legendary vineyards is the breathtaking Santa Ynez Valley Wine Country, where you can enjoy the gorgeous countryside of Santa Ynez and choose from an array of award-winning wineries to visit for your customized wine-tasting tour.
Looking for something really unique? Santa Barbara County Limousine provides the finest in wine tour services and luxury limousine transportation in Southern California. We offer extensive expertise and experience in providing the ultimate wine-tasting tailored to your individual group, whether you are a first-time wine tour party or a group of wine tour aficionados. Santa Barbara County Limousine is a full-service wine-tasting and transportation service and we can accommodate wine-tasting tour groups of any size. Our chauffeurs are professionally trained and have a vast knowledge of the wine country and the surrounding areas. Having your own professional chauffeur is a safe way to enjoy wines without the worry of driving.
You will witness breathtaking vistas on your wine tour, and overlook valleys and mountains studded with ancient oaks, brilliant wildflowers, and magnificent vineyards. A leisurely country drive can provide you with a beautiful experience whatever the season. Visit quaint towns, like Los Olivos or Santa Ynez, filled with gourmet shops, restaurants, and unique galleries and art venues. Plan your visit around one of the many events such as festivals, wine maker's dinners, concerts, and art shows, all of which are open to the public. There are handcrafted wines to be sampled such as Pinot Noir, Syrah, Zinfandel, Malbec, Bordeaux, Sauvignon Blanc, Cabernet Sauvignon, Pinot Gris, Rhone Varietals, and Merlot, to name a few.
On your Santa Ynez limo wine tour adventure, you can indulge in a delicious lunch at one of the local cafés, or bring a gourmet picnic to spread out at one of the winery picnic spots. After your Santa Ynez Valley wine-tasting outing, delight your taste buds with a gourmet dinner at one of Santa Barbara's world-famous eateries. Enjoy your safe and comfortable limousine ride home while you ponder over the day's events and plan your next excursion to the vineyards!
Santa Barbara County Limousine has endeavored to deliver each of its Santa Ynez wine tour clients with excellent customer service. From the first time you speak with our reservation staff, to the moment when your wine-tasting tour concludes with your chauffeur's fond farewell; Santa Barbara County Limousine is always ready to provide you with a treasured memory of our beloved Southern California Wine Country.
BEST SELECTION! BEST VALUE! BEST SERVICE IN SOUTHERN CALIFORNIA!!
OUR REVIEWS SAY IT ALL & WE GUARANTEE IT!!