BEST-RATED & AFFORDABLE LIMO SERVICES IN PACIFIC PALISADES!
By: AMERICAN LUXURY LIMOUSINE
Looking for a party bus or limo service in or near Pacific Palisades? American Luxury Limousine has proudly serviced this Los Angeles neighborhood and neighboring Malibu and Santa Monica for over twenty years. We take big pride in being the top-rated limousine provider in both Pacific Palisades and the City of Malibu. The lovely LA community of Pacific Palisades is an affluent area of LA, nestled along the Pacific Ocean and PCH. This is where the world-famous Sunset Boulevard ends at Sunset Beach. A place of celebrities, movie stars, and the rich and famous. For limousine requests in lovely Pacific Palisades, we most often service private homes and mansions, but we also transfer visitors to Pacific Palisades regularly. The Getty Villa, Riviera Country Club, and the Lake House are some popular destinations for visitors, while also beaches such as Sunset and Will Rogers are visited by limousines. Restaurants are also common limousine destinations, including eateries such as Beach Side Café, Gladstones, Vittorio, Palisades Garden Cafe, and Taste at the Palisades.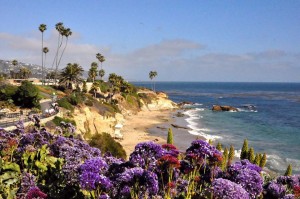 This Pacific beachside LA neighborhood is home to 25,000 residents and is among Los Angeles' most wealthy and scenic communities. With a gazillion houses and estates overlooking the Pacific, there is no wonder why Pacific Palisades has amongst LA's highest real estate prices and median household incomes. And despite its small size of less than 23 sq. miles, it is a popular limousine destination, even for international tourists visiting Los Angeles. Limousines are regularly visiting landmarks such as the Santa Monica Stairs and Getty Villa, but also hidden gems such as the Self-Realization Fellowship Lake Shrine by Santa Ynez Lake. This tranquil piece of nature occupies ten acres and is located on none other than Sunset Blvd 17190, removed from LA's traffic and noise. Here you can observe the Koi fish, meditate, read a book, or just enjoy nature. Limo clients also come here to see the shrine of Gandhi at the Mahatma Gandhi World Peace Memorial. At the much more visited and sometimes overcrowded Getty Villa, limousine riders come to experience ancient Greek and Roman arts. For tourists, many visit the beloved Will Rogers State Beach, the filming location of Baywatch.
The inhabitants of Pacific Palisades live nearly adjacent to the magnificent Malibu wine country, where limos take clients daily for Malibu limousine wine tours. Some frequently visited nearby wine-tasting venues include Rosenthal, SIP Malibu Grapes, Malibu Family Wines, and Cornell Winery. Click HERE to read more about our Award-Winning first-rate Malibu wine-tasting tours.
WHY CHOOSE US?
PACIFIC PALISADES' BEST RATED LIMO SERVICES
ALL LIMOS ARE LATE MODEL VEHICLES
TWENTY YEARS OF EXPERIENCE IN PACIFIC PALISADES
LATEST TECHNOLOGY IN ALL LIMOUSINES
EXPERIENCED AND CERTIFIED CHAUFFEURS
24/7 CUSTOMER SERVICE TOLL-FREE HOTLINE ☎︎ 866.319.LIMO
WE NOW OFFER SOUTHERN CALIFORNIA'S BIGGEST FLEET OF LIMOUSINES